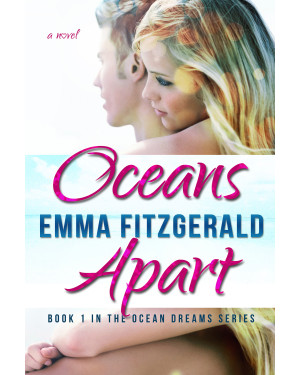 Oceans Apart
---
Author: Emma Fitzgerald
more from this user
Synopsis
---
Nobody ever cares about second place.
Nashville native, Annie Scott, knows second place well. She has never been anyone's priority and is sick of being an option. In a snap decision, she flees her hometown
for the unknown shores of Sydney, Australia; hoping the enforced solitude will give her back her identity and kick-start a new life.
Fate throws her in the path of Cam Hart. The Professional surfer is wallowing in self-pity after his recent embarrassing loss. The idea of losing himself in-between the sheets for some no-strings fun definitely has appeal and Cam believes he has found the perfect girl to distract him.
The two drifting souls soon discover their chemistry and passion is more than they bargained for. When fate throws Annie and Cam together, both afraid and uncertain, will they allow themselves to be swept along in the tide of possibility?
Excerpt
---
"What are you thinking about?" Annie hadn't moved her head from his chest but she seemed to know the wheels of thought were turning in his head.
"Nothing." The cheeky smile on his face widened, knowing she wouldn't believe that.
"Cam."
"Can't get anything by you, can I?" he said with a chuckle as she looked up at him and narrowed her eyes at him in the sassy way that would make any man blurt out his deepest secrets to her. "I was just wondering how much longer we have to stay before I can whisk you home and get you out of this dress."
Annie smiled and rolled her eyes. "A girl gets all dressed up…ugh! It takes her hours to make something look this good and all you want to do is take it all off."
"C'mon now. I don't want to take it all off." Annie raised her eyebrows at him. "The heels can stay." He knew what was coming and laughed as she playfully hit him on his chest.
"Cheeky shit."
Tagged As:
---
Genres
Fiction
Romance (Fiction)
Contemporary (Romance (Fiction))
Tropes
Friends to Lovers (Romance (Fiction))
Sweet Romance (Romance (Fiction))
Settings
Modern World (Romance (Fiction))