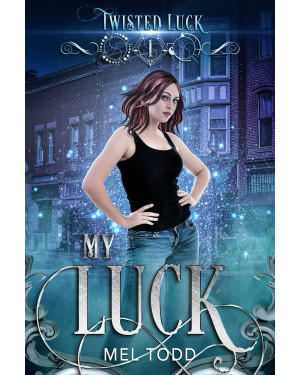 My Luck
---
Author: Mel Todd
Publisher: Bad Ash Publishing
ISBN: 978-1-950287-04-8
more from this user
Description
---
I'm called Cori Catastrophe for a reason.
My life has always been weird. I find an odd amount of dead or dying people, and if something freakish happens, I'm usually in the middle or nearby. And I'm tired of not being able to help the dying. Though finding another dead body almost counts as annoyance, because it is going to make me late to work, and I need all the hours I can get. College for non-mages is expensive.
In a world where a significant portion of the population are mages, I'm not. And I never will be. As such I need to do everything I can to succeed. After my brother died in my arms, my parents left. Not physically, I mean they still live here, but to them I became an obligation to a stranger. But getting my degree is just step one, someday I'll solve the mystery of my brothers death.
Juggling work, school, lack of money, internships, and waiting for my best friend Josefa to emerge as a mage is stressing me out. I'm starting to wonder if I'm going to lose everything important in the process of reaching for my dream of being an EMT. And worst of all, what if I can't handle it?
No, nothing is going to stop me. I will have a good life, I will be a great EMT, and I will keep researching. Life is a series of steps; this is step one. But with my luck, anything might happen.
My Luck – the first book in the Twisted Luck series, an Urban Fantasy you didn't know you needed.
Tagged As:
---
Genres
Fiction
Fantasy (Fiction)
Urban (Fantasy (Fiction))
Tropes
Spells & Magic (Fantasy (Fiction))
World Building (Fantasy (Fiction))
Publisher Notes
---
This is book one in a long series about a world a bit different than ours, but all too similar. If you want UF but would like to skip the sex and constant drooling, give this a try. Cori is smart, snarky, and too busy trying to keep her world together to care about finding anyone else. Be prepared for magic, conspiracies, great power, and great consequences.
Marketing Plan
---
Rapid launch on Amazon and stay with KU for first 90 days, then wide unless sales are insane.
Will have newsletters sending it out, as well as FB, Twitter, and Instagram.