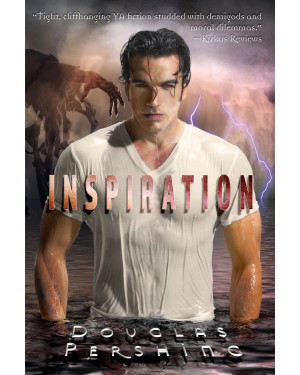 Inspiration
---
Author: Douglas Pershing
Publisher: Pershing Books
ISBN: 9780997512908
more from this user
Description
---
Seventeen-year-old Zachary Sable is the new kid in town. For him everything is new. Family, school, food, smells, colors, and breathing is a lot to get used to. In an instant he has what he's always wanted, a chance to prove his worth to Lucifer, the lord of this world. When given the simple task of distracting a human girl from her celestial guardians, he knows a quick success will win him honor and glory.
Emma finds herself inescapably drawn to the mysterious, beautiful, intelligent, and surprisingly inexperienced boy assigned to the seat next to her. Although he seems interested in her she knows it won't last once he finds out about her family's sordid past. The cancer that killed her mother also destroyed the church and the town. She has to find the truth to save her family and everyone else in Inspiration.
As Zachary becomes intrigued by the girl he's charged with destroying, Emma finds comfort with the new boy who provides a safe refuge from the town that's abandoned her.
Tagged As:
---
Genres
Fiction
Fantasy (Fiction)
Romance (Fiction)
Teen & Young Adult (Fiction)
Fantasy (Romance (Fiction))
Fantasy (Teen & Young Adult (Fiction))
Romance (Teen & Young Adult (Fiction))
Tropes
Paranormal Happenings (Fantasy (Fiction))
Characters
Demons & Devils (Romance (Fiction))
Publisher Notes
---
Please post reviews on Amazon and Goodreads. The cover art was revised in December, 2016.
Advance Praise
---
"Pershing's many small plot twists add up to a very entertaining read."
The BookLife Prize in Fiction
Kirkus Reviews:
A menagerie of supernatural forces fights for humanity's spiritual standing.
In this YA novel, Pershing (Ordinaries, 2014, etc.) brings a vast cosmological and theological battle quite literally down to Earth. Tiamanicus, an otherworldly spirit enrolled in the legions of Lucifer—known as the Great One by his followers—finds himself shocked, cold, and struggling as he's dragged out of a lake near the town of Inspiration, a place "swimming with demons." This watery entrance marks the beginning of his tumultuous transition from a Whisperer, or disembodied spirit, into one of the human-seeming forms known as a Talker. While Whisperers dedicate themselves to spreading Lucifer's influence throughout Earth by planting thoughts in the heads of humans, Talkers effect sin and corruption by their actions, using their bodies, and not merely suggestion. Placed in a household with several other Talkers, whose checkered and painful histories he'll eventually learn, Tiamanicus, now christened Zachary Sable, pursues his task of throwing Emma Louise Green off her holy track. Protected by angelic spirits from the Christian God whom Lucifer opposes, Emma turns out to be a tough assignment. Zachary soon starts to wonder about the depth of his commitment to the mission handed to him by Zagan, a demon in Lucifer's service. Zachary eventually becomes attracted to Emma. But Lucifer abandons Talkers who fall in love with humans, Zachary is warned; and the Great One represents the only hope for those who, like Tiamanicus and his kin, weren't made in God's image. Pershing has fashioned a raucous hybrid of coming-of-age tale and Miltonian epic. Marbled with a handful of plotlines that eventually unify, including a scheme by Emma to unveil the corruption of a local pastor who has been preying on young women, this story of adversity becomes complex but is strengthened by its intricate threads. Zachary encounters daunting obstacles in his new life; at one point, Emma asks him to accompany her to church ("Zachary tilted his head and thought about it. Church. Was it safe? He knew they couldn't see him, but what if the Selfish One, the Christ, was actually there? Not even a Talker could hide"). A few themes run like currents beneath the sparkling dialogue and rapidly changing scenes, including the importance of placing one's own happiness above official duties and the fickleness of allegiances and promises.
Tight, cliffhanging YA fiction studded with demigods and moral dilemmas.
Other Details
---
Book trailer: https://youtu.be/qj7hVpaxOzY